Description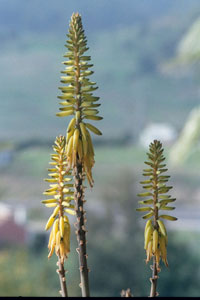 Natural substances and plant extracts are increasingly important components in the cosmetic and pharmaceutical industry as well as in the wellness sector thanks to its inherent characteristics and their high acceptance among the consumers. Therefore, the market share of natural products has been growing very fast, and for instance plant based drugs represent today a market share of approx. 30 % of pharmaceuticals.
Aloe Vera is benefiting of this demand on natural ingredients thanks to its unique healing and nutritional characteristics: The Aloe Vera leaf contains over 75 nutrients and 200 active compounds, including 20 minerals, 18 amino acids, and 12 vitamins and works effectively against sunburn and UV irradiation. However, up to now no objective method for quality demonstration and assessment of Aloe Vera has been established, which affects the competitiveness of European producers since they can only compete against imported raw material through offering a higher quality product.
The AMAY project aims at obtaining:
Exchange of best practises for plantations
regarding soil quality, cultivation methods and plant cultivar in order to maximize yield on Aloeverose content
Isolation and Quantification of Aloverose by NMR (irregularly acetylated polymer of Mannose)
Development and testing of new products with standardised content of effective compounds

Cultivation
Aloe Vera is a subtropical plant coming originally from Middle and North Africa. The plant needs a humid-arid climate and temperatures that rarely fall under 10ºC besides particular rainfalls. It has also been proved that at least 60% sand clayey soil will little organics is required. Therefore, climate and soil, growth rate, watering methods, harvesting periods or cultivation methods can play a very important role in the active compounds production from the Aloe Vera, which have to be studied during this project.
Standardisation
The major compound of aloe leaves is a gel, which is obtained by filleting the thick leaf. The gel is colourless, gelatine-like, with hair-like connective fibres and consists of >99% water. In the solid part of the gel, the three main compounds are glucose (a monomeric sugar constituent), malic acid (a preliminary stage for sugar in the plant's organism) and the polysaccharide Aloeverose, the core of Aloe Vera.

Product development
The obtained Aloverose can interact with different components from the skin and could act as active molecule in the final cosmetic formulations, due to its biological and physiological actions: protection of skin and wounds regeneration. Therefore the standardised Aloverose will be tested in different cosmetics formulations according to validated standard procedures.
AIMS AND MILESTONES OF THE AMAY PROJECT FINANCED BY THE EUROPEAN COMMISSION ARE:
Exchange of best practises for plantations regarding soil quality, cultivation methods and plant cultivar in order to maximize yield on Aloeverose content
Development and integration of a feasible procedure to isolate and quantify the Aloverose by NMR (irregularly acetylated polymer of Mannose)
Development of new products based on Aloe Vera with standardised content of effective compounds